Electric Guitars
1983  USA Fender Telecaster
Modified with two Rio Grande "Muy Grande" single coil pickups, 5 way Schaller Megaswitch and Seymour Duncan "Lil '59" bridge pickup.
2012 USA Bowler Bros Custom Designed "Sarcaster"
Co-designed by Vincent Hayes and guitar designer Mike Byington. Features a mahogany Telecaster body with three Amalfitano SP single coil pickups, 5 way Schaller Megaswitch, and Wilkinson trem. The traditional "Knucklebuster" Strat volume knob was nixed in favor of two knob master volume/tone set up. This guitar has truly magical tone. Check it out on
The Grind
, where is appears on nearly every track.
Vincent is an official endorser of Bowler Bros Custom Guitars, located in Grand Haven, MI.Breedlove Acoustic ElectricSix String Electric Cigar Box Guitar
Custom designed by Grand Haven luthier Will Sleutel. Features 21 fret custom maple neck, two humbuckers. 
Amps

Both of Vincent's most recent CD's (Reclamation, The Grind) were recorded using a 1979 Traynor YGM-3, and an Early 70's Matchless Chieftan 2x12 Combo, mic'ed in various combinations to create the desired tone for each track.

Though it's always preferable to have a variety of amps in the studio, for live shows, the Traynor is usually the amp of choice for tone, versatility, and bad ass tone.
 

 
Pedals n' Stuff
Vincent Hayes is an official endorser of Cusack Effects, located in Holland, MI.
He has been using the
Cusack Screamer v2
exclusively since 2009, when recording began for The Vincent Hayes Project's 2010 debut release Reclamation. "The Screamer is hands down the best choice in an overdrive pedal for my playing style. It pushes the tubes into a natural, saucy overdrive without sacrificing dynamics or harmonic balance between the strings. It's incredibly responsive, and really beefy too."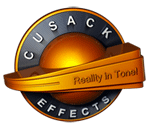 Check out the Screamer v2 at Cusack Music
Additional Effects
-MXR Carbon Copy Analog Delay

-Dunlop Cry Baby Wah

-Early 90's Boss Phase Shifter-Line 6 Wireless Unit